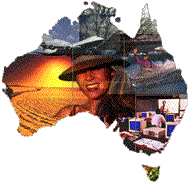 Are you considering to move to Australia on a temporary or permanent basis? Would you like to study in Australia? If your answer is "yes" to one of the above questions, we at SMCA are the right people to contact. SMCA offers expert education and immigration advice and services at affordable rates. This page offers general information about immigration and education as it applies to Australia.
IMMIGRATION
Australia is actively seeking skilled migrants of all nationalities. You too may be able to join the thousands welcomed each year. Having acceptable qualifications can make it easier to migrate, and as a permanent resident you can enjoy full work rights yet not have to give up your present citizenship.
Immigration Law can be quite confusing on first sight, not to mention the time and expenses involved. For us, the Immigration Law is no obstacle.
We can help you throughout the complete visa process: from finding the most suitable visa class for you to completing your application forms, lodging your application and liaising with the Immigration authorities, skills assessment authorities, giving advice about English testing, medical checks, police clearances, jobs in Australia etc. We ensure that your transition to Australia is as smooth as possible.
Our government registered migration agents are experienced and successful at preparing a wide range of visas including Independent, Family Reunion and Business Skills applications. SMCA can help you or your relatives to live and work in Australia. SMCA can plan your education and work experience to maximise your chances of migration.
Let us do the work for you and take the stress from you. Your visa application will be in good hands.
The first step is to fill out the on-line form for migration assessments. Do it now, or print it out and fax it.
Migration Policy
Australia is one of the few countries in the world actively taking migrants. Around one in five Australians comes from a non-English speaking background and most visitors are impressed by the relative harmony between the many nationalities that make up Australia. To become an Australian permanent resident it is not necessary to give up foreign citizenship. If you choose to become a citizen you may do so after two years.
There are many different classes of visa that may be applied for and, as would be expected, there is often considerable bureaucracy and confusion, not to mention time and expense, involved. Some visas carry work rights and others do not; some can be applied for in Australia, others cannot; some can be changed, others cannot. The Migration Act, Regulations, Policy and Procedures are constantly being amended and it is very important that the application is correctly prepared.
Migration agents
are independent of the Department of Home Affairs (DHA) and must be registered by the Migration Agents Registration Authority, which sets quality standards and controls. An agent can be useful in suggesting the most appropriate course of action -- there are often a number of options -- and then preparing the application so that it conforms to the law, regulations and policy, is processed quickly and has the best chance of success. There are usually set fees for different types of visas and services and these vary from agent to agent.
If an application is unsuccessful it is possible in some cases to appeal against the decision. One important organisation is the Administrative AppealsTribunal (AAT). At the appeal it is possible to present arguments and new information in support of your application.
Following is general information about some of the more common categories of visa and related topics. Migration regulations change frequently so please check with the Department of Home Affairs or a registered migration agent before lodging your application.
General Skilled Migration (Independent, State/Territory Government or Family Sponsored)
These are points tested, permanent residence visa categories for people under 45years with acceptable skills, relevant work experience, and English language level. Points are scored for: Age, English language ability, Work experience, Australian/Overseas qualifications, Spouse skills, State or Territory nomination, Designated area sponsorship, Study in a regional are, Professional Year and Bonus. A skills assessment is required before the migration application can be lodged. In some cases experience can make up for a lack of formal qualifications.
The pass marks are currently 65 for Skilled-Independent (subclass 189), Skilled-Nominated (subclass 190) and Skilled- Sponsored or Nominated (Provisional) (subclass 491). Applicants must submit an Expresssion of Interest (EOI) and a visa application may be lodged once an invitation is received. Applicants may be in Australia during processing, as long as they have a valid visa.
Family Migration
Family Migration permanent residence visas of different types allow an Australian permanent resident or citizen to sponsor a relative if all necessary requirements are met. Different types of visa are: Partner, Fiancé, Child, Parent, Carer, Aged Dependent Relative, etc.
Business Skills
These provisional permanent residence visas are for successful business owners, investors, or senior executives of large companies. Since Mar 2003, the two stage process has been introduced. Successful business migrants will be granted a Business Skilles (Provisional) visa valid for four years and after establishing the requisite level of business activity or maintaining 'designated investment', they will be eligible to make an application for permanent residence. State/Territory government sponsorship will be available at both the provisional and permanent residence stages, with significantly lower requirements when sponsored.
Employer Nomination Scheme
These are for 'highly skilled' applicants who are sponsored by Australian companies where the company cannot find a suitable employee in Australia. Applicants are in general under 45 years old with good English. Since Jul 2012 visa applicants may choose one of following three streams:
 

Work Visas




Many people are interested in working temporarily in Australia. For full time work it is generally necessary for an Australian or overseas company to sponsor the applicant. The visa requires a three step process. The approval of the company as a sponsor, the nomination of the required position and the personal visa application. We can organise the whole application process for you if you are interested in employing overseas personnel. Depending on the type of position, the company may be required to first advertise the position and satisfy Immigration that they cannot find a suitable Australian person. Work visas are available for up to 4 years; holders must pay tax and maintain private health insurance. In most cases, applications can be lodged offshore or onshore and members of the family unit generally receive the same work rights as the primary applicant.

Work rights are also available on a range of specialised visas, including those for Occupational Trainees, Entertainers, Academics, Media and Sports people. Applicants for these visas must generally be sponsored by an organisation in Australia.

Most Student visa holders and their dependants can work 20 hours per week. The dependants of post-graduate students have unrestricted work rights.  

Working Holiday
This is a 12 month visa which allows the holder to work for up to 6 months for any one employer. It is presently available to 18-30 year olds from Belgium, Canada, Cyprus, Denmark, Estonia, Finland, France, Germany, Hong Kong, Ireland, Italy, Japan, Malta, Norway, South Korea, Sweden, Taiwan, the Netherlands and the UK.  

Humanitarian Program
Australia takes Refugee and Humanitarian each year.  A refugee is usually outside their country and cannot return due to a well-founded fear of being persecuted, as defined by the United Nations Convention.  A relatively small percentage of applications are finally successful so it is important to provide evidence and prepare the application properly.

Purchase of Property




Any proposed purchase of urban real estate, 'hobby farms', or rural residential blocks must be approved by the Foreign Investment Review Board.  Proposed investments of $10 million or more in rural properties or industries, and most manufacturing and service industries also must be approved by the FIRB.

Generally, people with Visitor visas can only purchase new or 'off the plan' dwellings.  Temporary visa holders can also purchase a second-hand dwelling as long as they use it as their main residence and sell it again after they leave Australia.  Permanent residence holders have no restriction.

Translations
Supporting documents which accompany a visa application must be certified or notarized photocopies and must be translated into English by an approved translator. We recommend the translations to be done in Australia. If you wish we can organise this for you.

Health Checks
Applicants for permanent visas and some temporary visas must undergo Health Checks to show that they do not have any condition which may pose a public health risk or significant cost on the Australian community.  Health Checks are conducted by approved medical officers and may include a physical examination, X-ray (to check for Tuberculosis in applicants aged 12 or over), blood and urine test.  An HIV/AIDS test is required for permanent residence applicants 15 years or older. 

Police Clearances




Applicants for permanent residence aged 16 or over must provide a Police Clearance from any country where they have lived for 12 months or more in the 10 years before making the application.

English Test




For some permanent residence visas applicants must prove their English level.  For primary applicants in the case of points tested visas this is necessary to determine the points score.  Most primary applicants for General Skilled Migration visas must prove that they have 'vocational level' English.  Secondary applicants who have less than 'functional level' English have the option of paying the English Education Charge and receiving English tuition after arrival in Australia.

English level may be tested by the International English Language Testing System (IELTS) test, held overseas at offices of the British Council. Proficient English is defined as a score of at least 7.0 on each of the 4 components of the test: reading, writing, listening and speaking. Competent English is 6 on each part, Vocational level English is 5.0 on each part.

Assurance of Support




S

ome permanent residence applicants are required to provide an Assurance of Support (AOS).  This is a 2 year commitment by an Australian permanent resident to provide financial support to the migrant and their family if required.  This is because most migrants cannot get social security for the first 2 years.  The person giving the AOS must have a certain level of income and can be a different person from the sponsor.  An AOS is required for orphaned unmarried relatives, special need relatives, aged dependent relatives, remaining relatives and parents and may be requested in other visa classes if the migration officer decides so.

Resident Return Visas




Permanent residents do not need a visa to stay and work in Australia but when they travel overseas they need a visa to return.  This is called a Resident Return Visa (RRV); it is valid for up to 5 years and allows multiple entry.

Exclusion Periods




If people break visa conditions, for example, by working when they are not permitted or by overstaying their visa by more than 28 days, they may be prevented from returning to Australia for up to 3 years.  In more serious cases involving criminal activity they may be banned from ever returning.

The next step is to fill out the immigration assessment questionnaire and forward it to us.