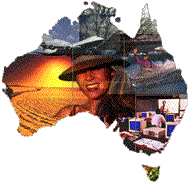 Study and Migration Centre of Australia is a private business offering migration and education services.
STUDY
The choice of what, where and when to study can be confusing. SMCA counsellors have researched widely and will provide you with up to date information on quality schools, colleges and Universities to suit your goals and budget.
Accredited courses available for overseas students range from English to Business to Naturopathy, from Music to Tourism to Computers. Some courses are a convenient stepping stone to University, some include paid work experience.
SMCA can advise you and will promptly answer questions on tuition fees, entrance requirements, starting dates, facilities, class sizes, etc. And if you need help with your student visa application we can help there too. SMCA can arrange airport pickup, homestay etc. Students and their families are allowed to work, so to help you get a job you can also have your qualifications and references translated by our accredited translators.
The first step towards assessing your eligibility is to fill out the on-line form for student assessments. Do it now, or print it out and fax it.
The number of overseas students in Australia has been growing steadily and there are now around 175,000 student visas issued each year. Many overseas people recognise that Australia has a well developed and high quality education system, many support services, a cosmopolitan population, and a safe and pleasant environment. A student visa is for full-time study, usually 25 hrs per week. If you wish you can work for up to 20 hours per week during the semester. In the semester holidays you have unlimited work rights. Courses less than 12 weeks and for study not leading to formal awards can be undertaken on a tourist or working holiday visa.
There are 7 student visa subclasses 570 to 576 and 5 assessment levels. It is not possible for people from countries under assessment level 3, 4 and 5 to apply for an initial student visa in Australia. The student under these categories must do a Pre-visa Assessment before enrolling and applying for a visa. Depending on the course you wish to study you might be required to undergo an English test. All students must meet financial requirements at the time of application. A "No Further Stay" condition may be imposed if the length of an intended course is shorter than 12 months. Once the student has completed his/her degree in Australia, he/she can apply for permanent residence under the subclasses 880, 881 and 882. These subclasses are similar to the Skilled - Independent/ Australian sponsored/ Designated Area sponsored visa categories but are only available to eligible overseas students in Australia wishing to apply for permanent residence. The student must pass the points test as well as satisfy the basic requirements.
To guarantee quality courses must be approved by the government before they can be included on the Commonwealth Register of Institutions and Courses for Overseas Students (CRICOS). Tuition fees must be placed in a trust account and can only be drawn down according to government guidelines. The student visa application fee is currently $430 and registration fees for schools range from $100 to around $300. These fees are non-refundable in the case that the application is unsuccessful. An application may be rejected if the Immigration officer does not believe that the applicant is a genuine student or if the student does not have enough money to support themselves during their stay.
Students are required to maintain adequate health cover for the length of their stay.
As mentioned above, students and their dependants can apply for work permission after the course commences and are allowed to work up to 20 hours per week while the course is in session. In the USA students can also work, but only on campus. If a student is doing a Masters degree or a Doctorate, family members have unrestricted work rights. To keep a student visa the student must maintain 80% attendance and fulfill course requirements.
ELICOS (English Language Intensive Courses for Overseas Students) (570) There are many private and government colleges in all capital cities and some large country towns. The focus is on General Conversation, especially listening and speaking, and many colleges also offer more specialised courses such as English for Academic Purposes (EAP), English for Test Preparation (ETP), Business English, English for Travel and Tourism, or Australian Studies. Bigger colleges may also have High School Preparation courses. Schools range in size from 50 to 500 and the two main nationalities tend to be Japanese and Indonesian. Most schools have around 50% Asian students and there may be a dozen different nationalities at one school. Registration fees range from $100 to $200 with most in Sydney being $150. Tuition fees range from around $240 to $350 per week for full time courses. Full time is usually 20 hours in a classroom with a teacher and 5 hours supervised self access. Courses are generally organised into 4 or 5 week modules, but many schools accept students every Monday. Most schools offer a language lab, computer room, library, organised social clubs, accommodation officers and student counsellors. Usually ELICOS schools take only national holidays off.
Schools (Primary and Secondary schools) (571) There are many private and government schools which offer from primary to senior secondary education for international students. Some private schools have boarding facilities in the campus. The student needs to have at least IELTS 5.0 or above to get admission. Yearly tuition fees range between $8,800 (upto Yr 6), $10,400 (upto Yr 10) and $12,300 (Yr 11,12) for a public school and between $11,000 and $21,000 for private schools.
Foundation Programs (Non award) (575) Some universities and private institutions offer foundation programs for international students from non-English speaking coutries who want to learn basic subjects in English before starting a degree program at university. The fees are around $16,000 per year.
Post Secondary/Vocational Education and Training (VET)(572) There are many business, computer, hospitality and tourism colleges which accept overseas students. Other colleges offer diverse courses such as Childcare, Naturopathy, Acting, Aviation, Hairdressing, Beauty Therapy, Acupuncture, Music, Agriculture, Physical Education and Graphic Design. These colleges can offer practical work skills, or be a good stepping stone to further study. Furthermore this income can be used to offset tuition fees. The smallest college has around 60 students and the largest around 1700. Some colleges specialise in courses for international students and study there may be less intensive than at colleges with mostly Australian students. Awards granted are: Certificate (6-12 months), Diploma (1-2 years), and Advanced Diploma (2-2.5 years). Tuition costs vary greatly. For example, the cheaper business courses cost around $4,500 per year and the more expensive around $13,000. Most courses start around Feb/Mar to capture the Australian school leavers and many also have a mid-year intake. Larger colleges and those specialising in overseas students have more frequent intakes.
TAFE colleges are set up and run by the government. There are many TAFE colleges with tens of thousands of Australian students and also many overseas students. They offer many technical and vocational courses which are not available at private colleges. Courses are from 6 months to 3 years and cost around $11,000 per year. Many courses can lead to advanced standing at University or are useful for quickly gaining qualifications suitable for migration in Para-Professional occupations.
Higher Education (573) and Masters/Doctorate (574) Australia has good Universities in all the major capital cities with a full range of undergraduate and post-graduate courses. The quality of many courses is comparable to leading international Universities and facilities are often first rate. Tuition fees depend on the University and the course; for example, an Arts degree might cost $19,500 per year at a high status city University or $14,000 per year at a country campus of a lower status University. Generally, courses which require more resources, such as engineering or chemistry, cost more. Most Universities have their major intake in February and some also have a July intake.
Homestay and Farmstay Homestay is available in all cities and the student can expect a good sized room with bed, linen, and study desk. Usually the arrangement includes breakfast and dinner everyday, and breakfast, lunch and dinner on the weekend. The student is often included in the family's social life and has a free run of the house. Quality homestay costs around $240 per week in Sydney and somewhat less in other cities. The minimum period is usually four weeks and there is usually a booking fee of around $165. There are many farms around Australia which operate as tourist or show farms. Guests can stay for around $120 per night, including all meals and farm activities such as horse riding, milking a cow, bush walks, petting farm animals, and so on. The next step is to fill out the student assessment questionnaire and forward it to us.
The next step is to fill out the student assessment questionnaire and forward it to us.